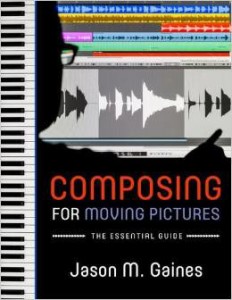 Jason's first book on Oxford University Press entitled, Composing for Moving Pictures: The Essential Guide, is now available at all major booksellers! To purchase the book, please visit the following vendors:
Press Information
"Gaines provides a comprehensive, accessible guide to navigating technology that professional film composers utilize on a daily basis, while giving insight into the history and art of music in motion pictures. Composing for Moving Pictures is an excellent tool for amateur or professional film composers alike." – Terence Blanchard, jazz musician and film composer
"[T]he perfect Swiss Army knife for learning the multidisciplinary art of film scoring. This one-of-a-kind text delivers just the sort of comprehensive and practical understanding professionals really need on the job." – Chris Mangum, Emmy Award-Winning Composer
"[O]ffers a wealth of material not offered in the same manner elsewhere. The sections on Delivery, Collaboration and Archiving, Best Practices and Troubleshooting are a must read for any professional user of Logic X, not just film composers. Gaines explains how to create and effective workflow in an easy to understand manner." – Gary Atkins, Technology Coordinator, The Royal Conservatory of Music, Canada
Making quality moving pictures has never been easier or more affordable, and the proliferation and ease of access to digital recording devices has prompted scores of amateurs to record and post videos to YouTube and its ilk. Paradoxically, however, scoring and arranging music for motion pictures is, in many ways, more complicated now than ever before, requiring extensive knowledge of notation, arranging, recording, and mixing software and multi-component DAW workstations.
In Composing for Moving Pictures: The Essential Guide, author Jason Gaines offers practical tools with which to navigate the increasingly complex environment of movie music composition. He addresses both the principles of composition for moving pictures and the technologies which drive music composition, performance, and recording in an integrated and comprehensive fashion. The guide takes readers from square one – how technology can facilitate, rather than hinder, creativity in scoring – and then moves into the basics of working with MIDI files and on to more advanced concepts such as arranging and mixing. Gaines illustrates each step of the process with screen shots and explanations in the form of program tutorials.
Composing for Moving Pictures fills a hole in literature on film scoring in the digital age and will prove to be an invaluable resource for music educators at the university and secondary level. Amateur composers will also delight in this easy-to-use guidebook.